5 good job application tips for engineers
Those who have a diploma as an engineer have it easy, it is often said. After all, there is a shortage on the labor market for technical profiles. Companies have hundreds of vacancies open for bright minds with the right technical diploma. But that doesn't mean that you just have every job at your disposal. That is why Ilse De Vos and Frank Klockaerts, the recruiters at Absolem, give you a number of useful tips for applying as an engineer. Use them to your advantage.
1. Start with yourself
The search for a new job actually starts long before you start combing through vacancies. "It is very important to properly map out what your expectations actually are. Which sectors are you interested in? Do you want to work for a large company, or do you prefer an SME where you can remember the names of all your colleagues? Do you want to work in research, design or even sales? What do you find important in a job? Don't worry if you don't have all the answers yet, you can discover where your interests lie as an engineering consultant at Absolem 😉.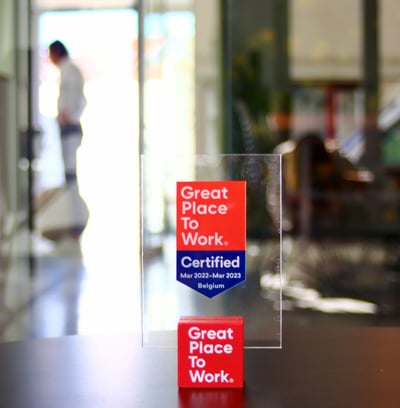 2. Be prepared
You have forwarded your resume and you can come for an interview? Super! But now the real work begins... "The first interview is very important. This is the time to make a lasting impression. Read the vacancy carefully and see how your profile, knowledge and experience fit with the requirements. Think about the questions you could get, and just as important: which questions you yourself have," says Ilse De Vos.
3. It's not just what you can, but mostly who you are
You're more than what you do, you can be who you are. That is what creates meaning in a job. "It is a cornerstone of our people-oriented approach. We are very curious about the technical knowledge and skills you have, but we also want to get to know you as a person. So just dare to be yourself during the conversations," says Ilse De Vos.
4.The big trick question: 'why do you want to work at Absolem?'
"At Absolem, we want to develop a people-oriented and value-driven engineering group," explains Frank Klockaerts. "Our five core values – quality, sustainability, humanity, connection and independence – are embedded in our corporate culture. Are these values a good fit for you? Then we might be a match made in heaven. It is important that you consider and are able to tell what makes a company different from the others in your opinion."
5. Have you got a question for us?
An interview at Absolem is a two-way street: we are most happy to answer all your questions and discover together whether there is a good match. And we want a good match, both on a personal and professional level: we want to help you steer your career in the right direction, based on your competences and needs. Therefore, we are very curious how you want to further develop yourself and your talents. At the same time, we just want to enjoy working together every day. It is therefore important that we get to know each other well and know what we can do for each other.
Got curious about Absolem?
Did you find the tips helpful? Did they make you curious? Do you want to know what kind of company Absolem is? What kind of people work for us? What corporate culture there is? What jobs currently are available? How well you would fit into the team? Then be sure to check out the following links:


And if you have any questions or comments, just let us know. We do our best to answer you as soon as possible.