Agfa chooses innovative laser application from Absolem for new printing solution
The Agfa-Gevaert Group is a well-known name in the Belgian business community. The company is active worldwide and has sales organisations in more than 40 countries. The largest production and research centers are located in Belgium, the United States, Canada, Germany, Austria, China and Brazil.
Agfa develops, produces and distributes an extensive range of imaging systems and IT solutions, mainly for the printing and healthcare industry, but also for specific industrial applications.

The activities are divided into four divisions: Radiology Solutions, Healthcare IT, Offset Solutions and Digital Print & Chemicals. The latter division knocked on Absolem's door in search of a partner to solve a very specific challenge.
In short…
Challenge
Designing an application that can print personalised texts and images on a special coating on the inside of cardboard boxes
Developing a machine that can do this quickly and efficiently within a production process
Solution
In-depth process research to determine the optimal laser configuration
Use of laser technology with specific control for fast and efficient printing
Integration of the newly developed laser application in a newly designed machine built by Absolem
Results
In less than 10 seconds, personalised messages and high-resolution photos can be applied to an A5 surface
The machine that realises this can be perfectly integrated into a production process


Why Absolem?
Expertise in laser technology and prototype machine building
Flexibility in process research
Transparent communication
Challenge: A new application and machine to print personalised messages and images on cardboard boxes
AGFA came to Absolem with a very specific challenge. Designing and developing a new application and machine.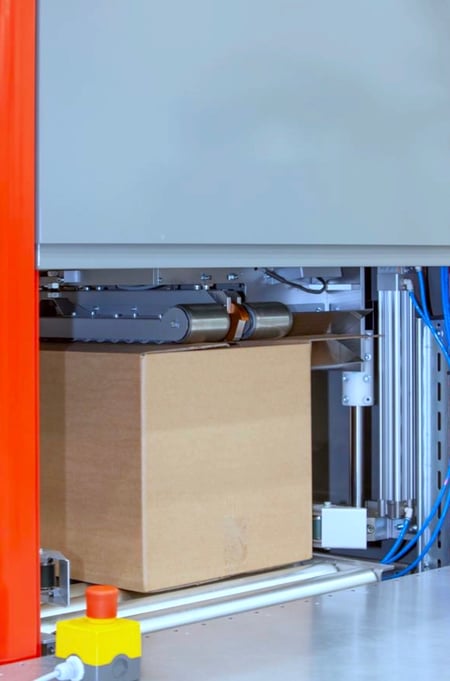 Paul Leblans, Team Leader Inks & Coatings at Agfa, explains: "We are constantly looking for new printing applications to bring to the market. When we came across a study by an external agency that showed that people rarely read folders that are sent within the box, we came up with an idea. We had already developed a specific coating that can be written on with laser, which should make it possible to quickly print messages on specific surfaces."

"So why not use that coating to print personalized messages on the inside of such an e-commerce box? That attracts more attention in any case than a folder that is sent along. And I don't have to tell you how many of those boxes are delivered today, surely?"

The concept was clear, but the search for the right control and the suitable process to achieve this with lasers was quite a challenge. That is why Agfa looked for a partner with the necessary experience with laser technology. That's how Absolem came into the picture.

"We wanted a solution that was reliable, fast and affordable. Initially, Absolem did process research for us. This showed that our original requirements – including multicolor printing, for example – were technically possible with laser technology and our coating, but stood in the way of speed and affordability. We then adjusted our specifications on the basis of that research. After all, speed and affordability were the most important factors," says Paul Leblans.
Solution: a specialised laser application, integrated in a newly developed and built machine
Based on the earlier process research, Absolem developed a specific laser application that uses multiple laser sources. That application was then integrated into a newly developed machine, of which Absolem built the prototype.

"The challenge was to integrate the laser application that we had developed in our laser lab into an industrial machine. In the lab we push the limits of what is possible in the field of speed and control technology. We are creative and work with platforms that allow a lot of flexibility, such as Raspberry Pi for example. But once an application is ready, it must be transferred to a robust and reliable industrial platform that is sufficiently flexible and that the industry trusts. That transition requires the necessary expertise," says Jurgen Adriaensen, process architect at Absolem.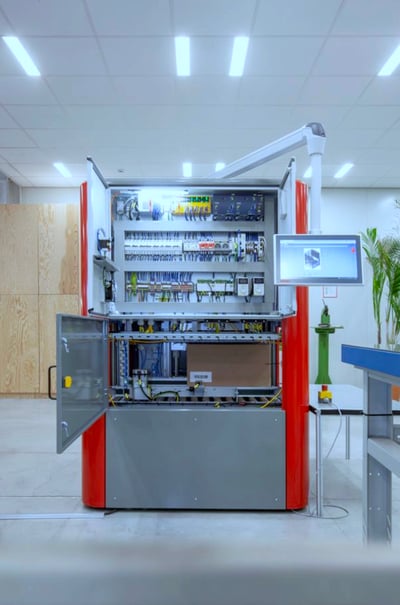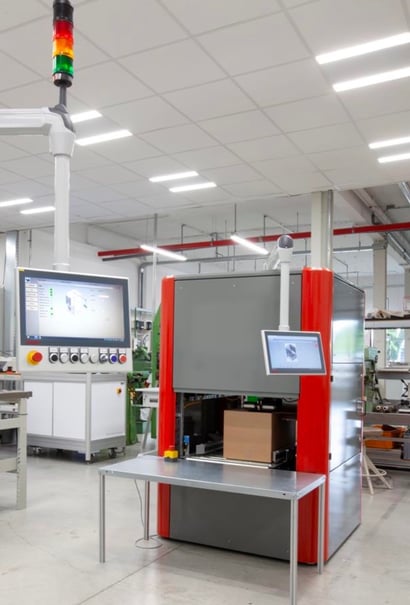 When the machine building division was started, Absolem selected a platform that meets the requirements of the industry, but is still flexible enough to integrate the specialised controls of lasers.

"We quickly arrived at the TwinCAT platform from Beckhoff Automation. It offers a PLC environment to program the machine control and a PC environment in which to run the software that is further required for the laser applications," says Luc Vermeylen, automation specialist at Absolem. "In the newly developed machine, an application is running in C++ that converts the bitmaps to be printed into code with which the lasers are controlled. That software runs parallel to the PLC that controls the machine and can also exchange data with it in an integrated manner."
Result: Personalised messages and photos can be printed on an A5 size surface in seconds
The final result pleased AGFA: "We can print an entire surface of A5 size in less than 10 seconds and even print photos in A5 size, within that time," says Paul Leblans. "That is done in monocolor, to maintain speed and affordability, but in high resolution." The other specifications, including the price to produce the machine ourselves, were also achieved.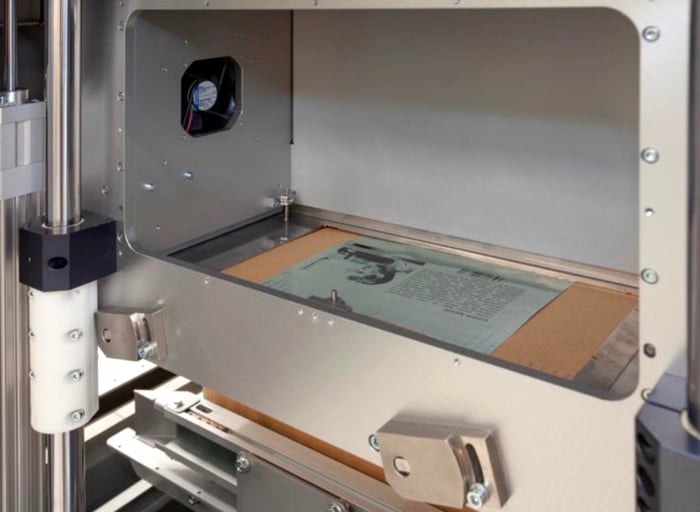 "Now we invite potential customers to view and test the prototype machine. And of course the intention is to see it go into production as soon as possible with (larger) e-commerce players. Who knows, maybe people will soon receive boxes printed by our Agfa machine developed by Absolem."
How did the collaboration with Absolem go?
When we ask Paul Leblans about the collaboration with Absolem, he turns out to be very satisfied: "Obviously Absolem has the necessary expertise in-house and this project was handled professionally. But the two things that surprised me most positively are the flexibility and transparent communication. We regularly changed specifications and requirements during the process, but Absolem has always been very flexible with this and kept thinking along with us. In addition, there was also transparency: during the entire process we were proactively kept informed, there were regular status meetings and room for consultation. So it really felt like a collaboration. That is not always obvious. Absolem scored good points there."